Thanksgiving Home Decorating Ideas
All you need to do on Thanksgiving? Enjoy family, friends and
holiday food. When it's your turn to host this beloved holiday,
try these easy Thanksgiving decorating ideas to transform your
​home for the year's most celebrated meal.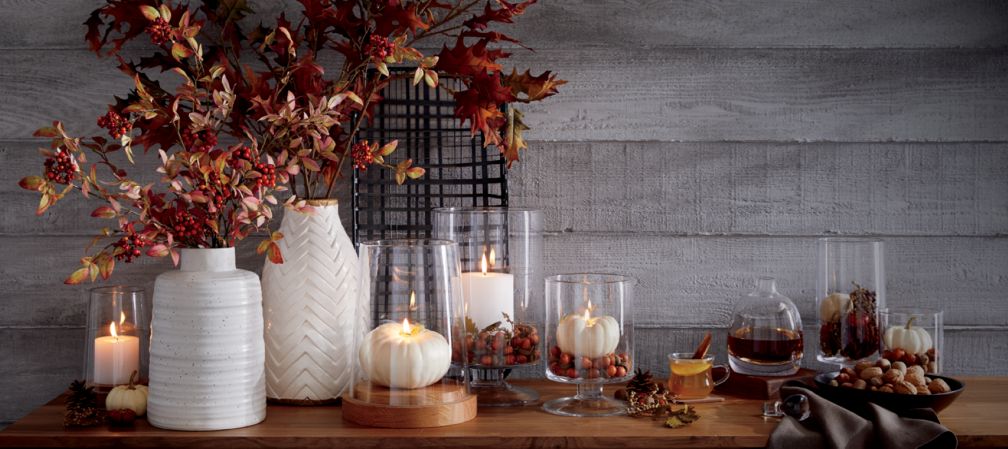 Embrace Thanksgiving Hues
Warm up your home's palette by mixing in accessories in fall colors. Dress up sofas with
decorative pillows
in classic autumnal shades—think saturated oranges, browns, taupes, burgundies and yellows. Drape a cozy throw over the back of a leather chair, make up the guest bed in a printed quilt and swap indoor mats and accent rugs that nod to the natural beauty of the season. Go a step further by temporarily replacing existing wall art with framed Thanksgiving-themed prints, pictures and paintings. Refresh the textiles on your dining chairs with slipcovers in warm-hued solids or rich patterns. Choose heavier fabrics, such as velvet, for a plush look.
Pass the Gourds
Bold colors and organic shapes make pumpkins and gourds the ultimate Thanksgiving
decorations
. Welcome guests with clusters of pumpkins along your front walkway or porch. Inside, scatter gourds everywhere: on an entryway table, atop a stack of coffee-table books and along a fireplace mantel among framed family photos. At the dinner table, decorate each guest's folded napkin with a tiny pumpkin, or slice open the tops of small, sturdy gourds and a insert handwritten place cards. Adding turkey-themed throw pillows and standalone turkey decor to mantels and sofa tables adds playfulness to your space. If you enjoy crafting, paint your decorative pumpkins or cover them with decoupaged fabrics for a designer look.